A memorial to the men and women who have served in the central region, most recently Iraq and Afghanistan.
Two soldiers from Fort Carson in Colorado Springs were the models for this sculpture.
Spc. Ontario Washington is presented as a combat troop. I wanted to create an image that reflects the soldier as if he has just returned from a patrol and came directly to the memorial to honor his friends.
The soles of his boots are worn. His Camelback is empty… he has spent himself today in his duty. One dog tag is visible in the laces of his left boot. He holds his gloves in a clenched fist of resolve. The watch on his vest is set to 9:11. His right shoulder is clear of gear to not interfere with his rifle aim His weapons are an M4 Carbine and an M9 Beretta. He wears one knee pad on his right knee. He wears a wedding ring… he has a family.
Sgt. Amy Perkins is presented as a support troop. Amy has done two tours in Iraq. "I have seven year-old twins and I have missed the last three birthdays." I told her that to honor her service I am placing images of her twins in the lining of her helmet. She then got quiet, and thoughtful. She told me about her fiancé. During her first tour in Iraq, Amy was attached to a special forces group and that's where she met Aaron. She came home… he didn't. After she told me their story, I told her that Aaron's picture will be inside her helmet along with her kids.
It is profoundly humbling to realize that a hundred years from now, her story will not be known to many, but we will have created an enduring image in bronze that says forever, "This soldier was a mom and she carried a weapon and she fulfilled her duty and she loved someone." These little details, along with the wedding ring on Washington, speak softly yet powerfully about the dads and moms, sons and daughters, and brothers and sisters who, as average Americans, become extraordinary when they take the oath, raise their weapon, and stare into the face of our enemies…so that we don't have to.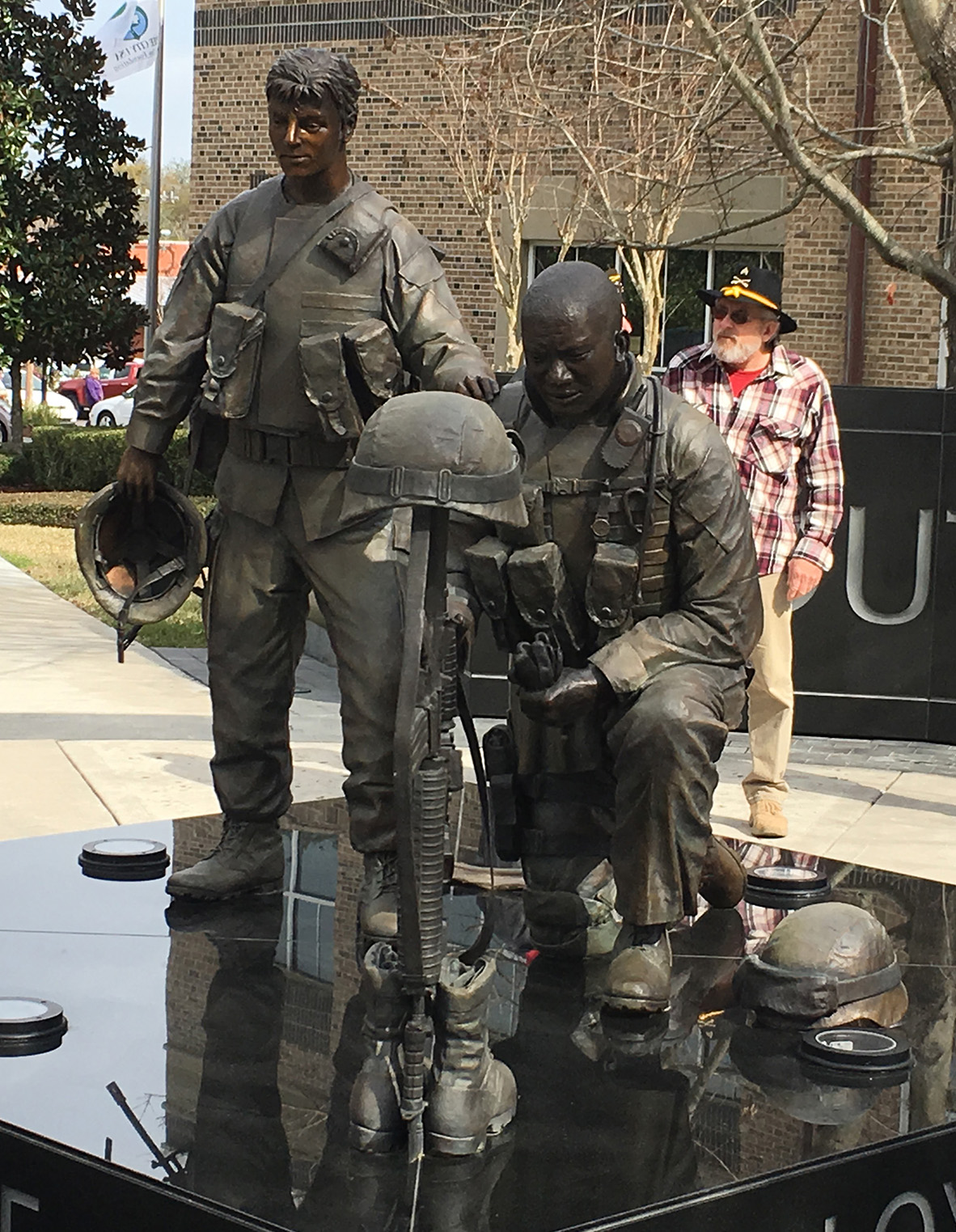 This metal feather was taken from one of Saddam Hussien's palaces after the liberation of Baghdad. It was a part of a crown on a huge bust of Hussien. Central Command wanted it included in some way into the sculpture for the memorial. I placed the piece on the ground symbolizing the defeat of Saddam. It is near the sole of the soldier's boot, an insult in Islam. The soldiers have turned their backs on it, symbolic of them moving beyond Saddam and on to the next phase of their duty.